The Workstream application will be updated with redesigned user interface (UI) elements to make more efficient use of space and drive efficiency. As use of the application has increased, some parts of the layout have become more relevant and the placement proven sub-optimal. All Workstream customers will experience these updates on March 26, 2020.
In this article, we'll look at the major changes being made. The feature set will remain the same but there will be some changes to the following:
Navigation
The first change you may notice when entering Workstream is the new header navigation. The most used pages are moved to the top header, and the most important actions all available in a single click. Instead of the task and project views in a subheader, you'll now find them at the top and always available wherever you are in Workstream.

From any page, you'll be one click away from your project list, task list, and approval hub. Admins will also have the Manage tab to access the Workstream configuration pages. On the right we've added a dynamic action button. It will dynamically switch to create a new task or new project depending on whether you are in the task or project list, and no matter where you are the following actions will be available in the drop down list:
Create a new project
Create a new task
Create a new approval template (visible to admins)
Create a new request form (visible to admins)

Take a look at the new navigation UI in action:
Task and Project Lists
Tasks and project lists have been updated to optimize page space. The new UI displays more tasks and project per page by improving components and reducing row height. You'll also find that you are able to take additional actions on individual projects and tasks from the lists themselves.
The "Assets" column has been updated to display asset thumbnails and a dropdown for additional thumbnails when there are more than 4 assets per project or task. The "Watchers" column allows for adding and editing watchers directly from the list. Task "Due Dates" are now editable from the Task List as well.
See a glimpse of these updates:

Task and Project Views
The task and project views are also updated with more relevant actions available in the UI. The task and project list view should be familiar to seasoned users, but you'll notice that all the elements in the list view can also be edited in the same page. You can edit these fields in lieu of clicking into the task or project. For example, you can update a project status, or change the due date of a task in one click.
When you enter a task or a project, every element will now be clickable for a relevant action. Many of these actions were inside kabob menus, and though you'll still find them in those menus you can now click on an element to make a change to it. For instance, you can change an assignee, add watchers, or change the due date from the task or project detail page.
Take a look at this video to see the new UI for tasks and projects:
Administrative Views
User Interface (UI) updates have extended to administrative views as well. In particular, the "Manage > Request Forms" and "Manage > Approval Paths" sections have seen improvement in both aligning terminology and increasing accessibility to settings.
The previous Inactive/Active toggle in Request Form and Approval Path manage lists have been replaced with a drop-down selection to increase clarity. Settings for individual Request Forms and Approval Paths have been added to the "more" menu accessible from each form or path.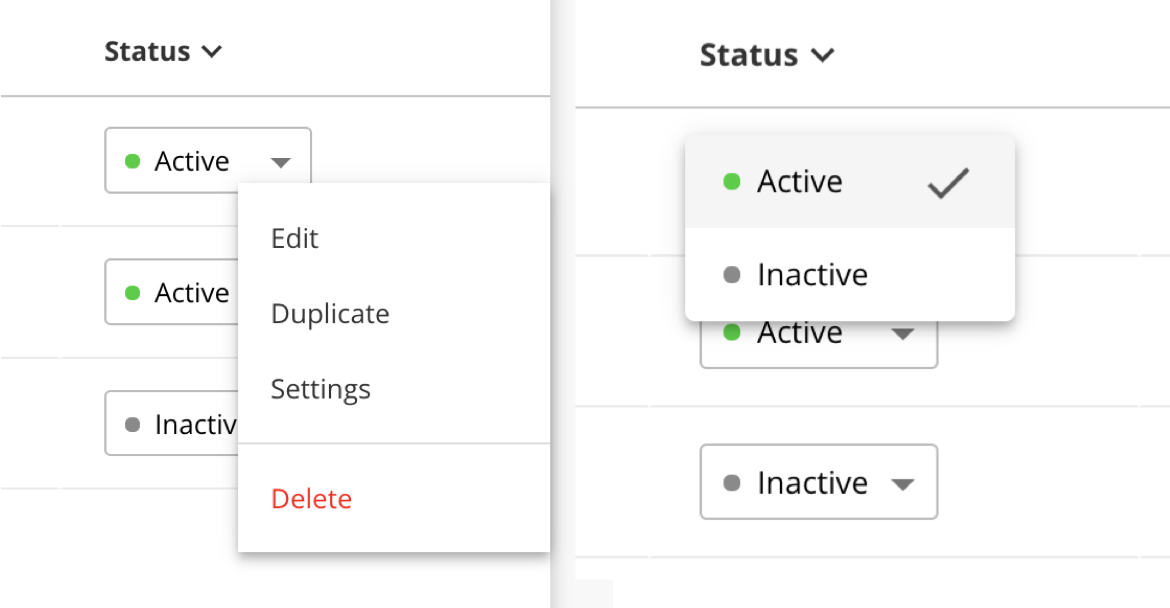 See updated administrative views in this video: