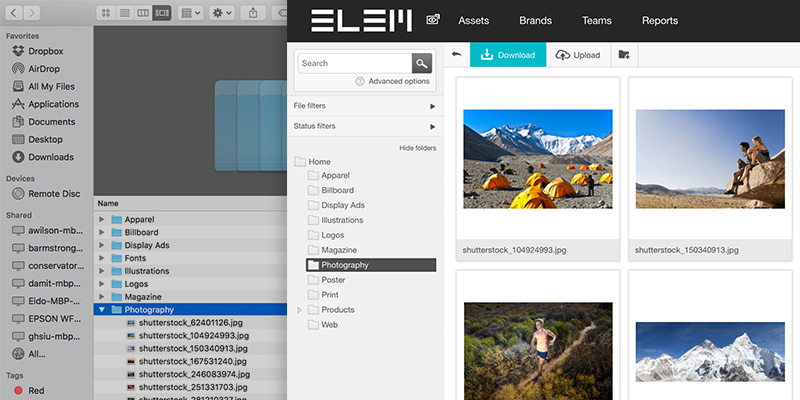 You can import assets and folders in bulk using our data import services. This article covers the following topics:
Webdam Standard Onboarding includes a one-time bulk data import. Please contact your customer success manager (CSM) for any bulk data imports needed after onboarding.
Gather the assets you wish to import in a central location and organize them in the desired folder structure, which will be preserved during the import. Reach out to your implementation consultant (IC) or CSM if you need recommendations for organizing assets.


IPTC and EXIF metadata embedded in the assets will be automatically imported.



External metadata can be mapped to your assets upon upload – just request a metadata mapping spreadsheet from your IC or CSM. (

Read more about the metadata mapping service.

)
You can reorganize assets and folders post-import, but getting the folder structure as close to "final" as possible will mean less work for you later on.
There are three options for importing libraries of assets over 250GB: hard drive import (recommended for up to 20TB), Amazon S3 transfer, and Amazon Snowball (recommended for anything over 20TB).
For libraries under 250GB, we recommend a variety of self-service solutions described in Additional information below.
A hard drive import involves transferring the assets from a physical hard drive shipped to Webdam and is recommended for data sets between 250GB-20TB.
Transfer the organized data to an external hard drive. To enable faster data transfers, Webdam recommends using hard drives with USB 3.0 or a Thunderbolt connector.





Print your company name and return shipping information on your hard drive and shipping box using a mailing label.





Send the hard drive to the following address. Please include your IC or CSM's name and advise them of the tracking number.





Webdam




c/o Professional Services




734 El Camino Real




94070 San Carlos




USA





Once we receive the hard drive, your IC or CSM will initiate the data import and communicate an estimated completion date.





Upon completion of the data import, we'll send you an email confirmation with an asset import summary.
Amazon S3 transfer involves transferring the assets from your Amazon S3 account to the DAM. This method is recommended for data sets over 250GB. S3 transfer eliminates the dependency on physical media or shipping services but requires you to provision an Amazon S3 account, so you might need help from your technical services team.
You can reach out to your CSM/IC for assistance in setting up the S3 bucket.

Your IC or CSM will provide you with the S3 Access Key and S3 Secret Key to initiate the data import.




Move your content into the S3 Bucket and notify your IC or CSM to upload to your DAM.



Once the import is complete, we'll send you an email confirmation with an asset import summary.
Snowball is a petabyte-scale data transport solution that uses secure appliances to transfer large amounts of data into and out of the AWS cloud. This option is recommended for customers importing more than 20TB of data.
You can either order the Snowball using your own AWS account, or we can order it on your behalf with the cost billed to you.
Once you receive the Snowball device, follow the instructions to copy over your data and ship the device back to Amazon. Inform your IC about the completion of data transfer.





If you ordered the Snowball with your AWS account, grant read access to Webdam and provide the S3 Access Key and S3 Secret Key. We'll import the content to your DAM.





Once the import is complete, we'll send you an email confirmation with an asset import summary.
AWS Snowball comes in different sizes – check out their pricing.
For smaller (under 250GB) imports, please refer to the articles on uploading assets via

drag and drop

,

FTP

,

Box

and

Dropbox

.





Be sure to keep a backup copy of the data until it is fully imported to Webdam and verified.





We return hard drives to you after they're successfully imported.