Webdam makes it easy to share assets in your DAM or embed those assets in a web page or email.  Your core assets will remain secure inside the DAM, but admins and contributors have access to links that can be used or shared externally.  Some common uses of these links include:
Using images in custom HTML elements of your Brand Connect
Creating a gallery on an external website
Sharing quick previews with business partners
Creating an email with images from the DAM
Watch our short video covering all of Webdam's embed options.
Note: Some features are only available to enterprise edition customers.
To share a link or embed an asset:
Log into Webdam.





Double click an asset to see its asset details page.




Click the get links icon 

 in the actions toolbar. The Get Links window will display page, direct and embeddable links. Here's how they work:





Page links

: Links to the asset details page. The Brand Connect link points directly to the asset on your Brand Connect and the Webdam Admin link points to the asset in your Core Library. Users who click the link will need to log into Webdam and have group permissions to access the asset.




Direct link

: Links to a preview of the asset in the browser. People who click the link will be able to save the asset and are not required to log into Webdam to view it. You can choose the maximum pixel size for this preview before sending.  These can be used on most external platforms, but Webdam does not track usage data.

Embeddable link: HTML code that embeds the asset into a blog, website, etc. You can choose the maximum pixel size for this asset before embedding. You do not need a Webdam login to view the asset.  These can be used on most external platforms, and Webdam tracks download data in your reports.



Direct Download Link: A link to the original asset. An external user will not need to login to access it. These links expire in three days.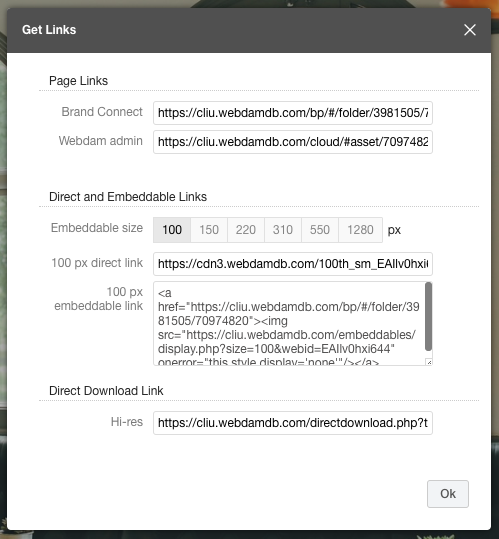 Read more about other Webdam embeddables such as Carousel and Embeddable Downloads.